IMPROVE YOUR BUOYANCY CONTROL

WORKSHOP; BUOYANCY; TRIM; FROG KICK; COZUMEL; SCUBA; STREAMLINING; LONGER DIVE TIMES
"No Performance Requirement in

SCUBA

Diving is more poorly defined or less often achieved than....

Buoyancy Control."
"LOOK....NO HANDS!"
HAS ALWAYS BEEN OUR MOTTO BECAUSE:


SCULLING is for oars not arms....there's no sculling in SCUBA


SCULLING

the hallmark of poor Buoyancy Control Skills


BuoyancyQuest

is: "A SCULL FREE ZONE"
"

We put the cart back behind the horse....we offer fundamentals only!"




BuoyancyQuest

: ONE TIME ~ ONE WORKSHOP....only in

COZUMEL

ME

XI

CO
6X MORE DIVING THAN IS OFFERED BY MOST BUOYANCY CLINICS!
BuoyancyQuest's

workshops are built on the model of our successful Cozumel Group Trips.
They are simply a "FUN FILLED" dive travel experience with a "painless"

FROG KICK

& Buoyancy Control Workshop

attached.
A fundamentals course without the pseudo tech images.
We don't promise to put you in a dry suit with doubles on your back looking a scooter in the................................propeller.
AND we won't even mention rebreathers.
In fact we are not about promoting more expensive toys.
We are about promoting SKILLS!
We're not offering more suspect credentials ; i.e. plastic cards.
We do not believe that plastic credentials and expensive equipment define you as a diver.



WE BELIEVE THAT THE REWARD THAT YOU SEEK SHOULD BE A REAL

AND NOTICEABLE IMPROVEMENT OF YOUR BASIC SKILLS!





We can show you a "less is more" equipment configuration, how to be more streamlined and how to use your respiration as a tool to fine tune your position within the water column. We can show you how to frog kick. Frog Kick is a valuable option in place of the often tiring and destructive flutter kick. You can expect to improve your gas consumption and bottom time if you embrace and master these foundation skills.


A GROUP PRIOR TO A NIGHT DIVE


( OF THE 18 FACES "ABOVE" 8 BELONG TO STAFF )



"Your SKILLS define your diving!"


( NOT YOUR EQUIPMENT )





SOME EQUIPMENT CONSIDERATIONS
TRUE:
Most recreational divers are overweighted. That was how they learned to dive. We'll show you how to take off the extra pounds.
TRUE:
If you use a bigger tank you will have more gas. We'll show you how to do a longer dive with a smaller tank.
FALSE:
If you just dive more your buoyancy will improve (as if by magic). Look around....most divers only improve upon bad habits.
FALSE:
Every instructor and assistantant instructor for that four letter agency is a buoyancy expert. We'd be
surprised if 10% were!
TRUE:
Breath control along with not sculling and proper weight management is the key to good buoyancy.


"Everyone will tell you that!
"
THE IMPORTANT QUESTION IS: WHO CAN SHOW YOU THAT.... UNDERWATER?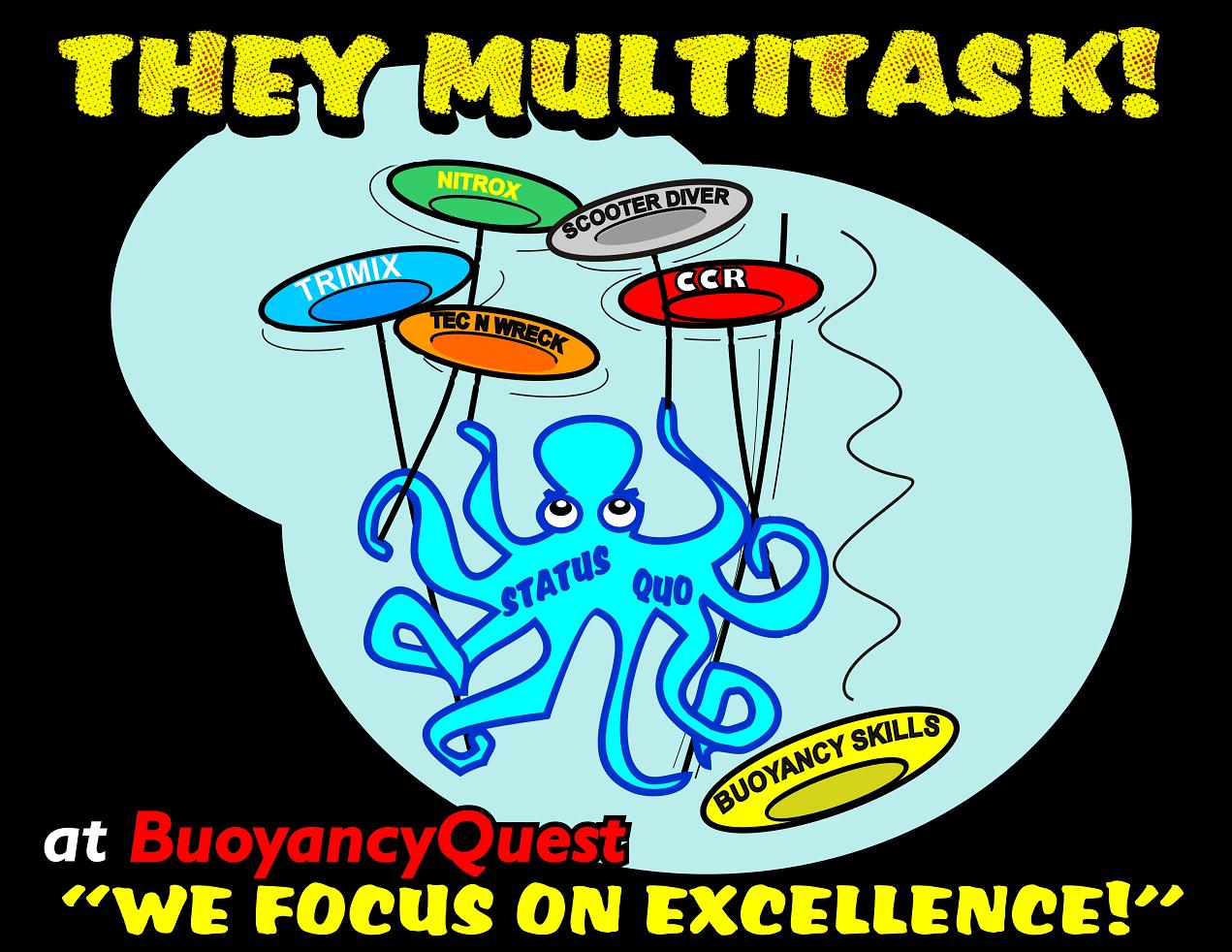 "THOSE OTHER GUYS"__THE ONES FROM THE MEGA INTERNATIONAL TRAINING AGENCIES
( show their instructor numbers and other credentials and "talk the talk"__and award plastic cards )
YOU PROBABLY WON'T GET TO SEE THEIR MOVIES....BUT IF YOU DO:
"WATCH THEIR HANDS!"


"SCUBA INSTRUCTORS WHO SCULL SET A POOR EXAMPLE!"

"SCULLING & KNEELING while wearing doubles and a stage bottle.....IS A DISGRACE!"


( ESPECIALLY IF YOU ARE TAKING OR TEACHING A "DEEP TECHNICAL INSTRUCTOR COURSE" )
Workshop prices
copyright: BuoyancyQuest, LLC. 2010 all rights reserved