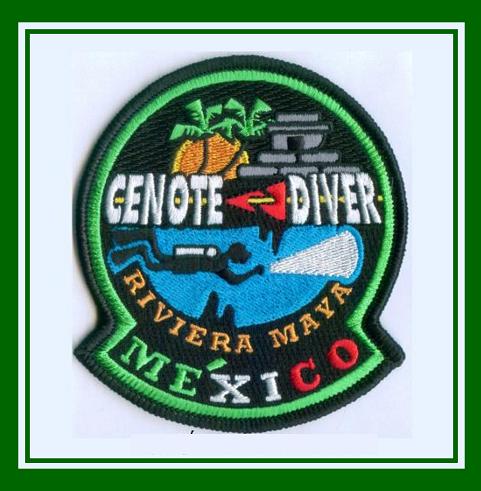 click the patch to visit ScubaPatchArt
CENOTE DIVER III
RIVIERA MAYA is an area of the Mexican State of Quintana Roo that includes some of

the

best cave diving in the world. These portals to the Maya Underworld offer a rare opportunity for the open water diver to experience a little bit of the beauty of these incredible

underground rivers. Buoyancy Control is very important

tto all divers who venture into this extreme envioronment, both cave divers and those recreational divers who opt for this rare treat. Buoyancy Control not only protects the diver

from

injury but it protects the decorated portions of the cavern from damage

caused by careless or

unskilled divers

.

Make no mistake .... this is a serious overhead

environment, even for the divers who never leave the zone of ambient light.

BuoyancyQuest has been selling

"just for fun" recognition items i.e. embroidered patches and silk screened t-shirts for about 6 years. We recently took these items off of the diving website and gave them a new home on their own website:
On the left is the 3rd edition of our cenote diver patch.