SCUBA BUOYANCY, TRIM, & PROPULSION SKILLS

"No Performance Requirement in

SCUBA

Diving is more poorly defined or less often achieved than....

Buoyancy Control

."
A world in which 199 out of every 200 persons stumbled around like toddlers or drunks.
...how the aquatic world looks to the less than one half of one percent of divers who have excellent Buoyancy Control Skills.



WHO REALLY WANTS TO LEARN

" Buoyancy Control SKILLS?"


Most divers are in such a hurry to collect c-cards and to buy fancy dive gear and to score bragging rights that they allow the proverbial cart to get in front of the horse.
Make no mistake....

SCUBA Diving is an EGO Sport!




SO FAR

....fundamentals such as Buoyancy Control have managed to not become an "ego trip" or attract very much attention from most of the diving community.

Perceived

STATUS

is more important than actual competence with fundamental skills.



WE "ONLY" MENTOR FUNDAMENTAL SKILLS.

We

"pull no punches & take no prisoners"

.



IF you have nothing to learn....we can't help you!



THE PHOTOS BELOW SHOW DIVERS WHO HAVE GOOD BUOYANCY & TRIM....BUT....YOU REALLY NEED TO TAKE OUR WORD FOR THAT BECAUSE IN A STILL PHOTO, THE ACTION HAS BEEN CAPTURED IN ABOUT 1/250TH OF A SECOND. NOT ONLY OUR PHOTOS....BUT....EVERY STILL PHOTO THAT YOU HAVE EVER SEEN OF A DIVER. IF YOU REALLY WANT TO BE ABLE TO EVALUATE A DIVER'S SKILLS, YOU NEED MOVING PICTURES.
BuoyancyQuest....

the "Original Scull Free Zone."

WE KNOW

:

that others usually genuflect to Archimedes and then they list everything that they know, or have read and copied elsewhere,

about buoyancy control, including all of the details about the relationship between weights, physical composition, breathing and equipment "especially equipment"! They then incorporate that info into a toutorial or advertising for their buoyancy "certification" programs.




BUT HOW MANY BUOYANCY EXPERTS OFFER MOVING IMAGES OF THEMSELVES UNDERWATER?
We know all of the same stuff that they know. The same details that get listed or repeated or copied by every expert and every tutorial, so we do not feel the need to list everything that we know about buoyancy skills here and now. The facts are the facts but quoting facts is nothing but "lip service" unless those details can be supported by examples!



BY THAT WE MEAN VISUAL EXAMPLES!....DON'T JUST; "TALK THE TALK!"
"THAT'S RIGHT....SHOW US YOURS....WE AREN'T AFRAID TO SHOW YOU OUR SKILLS!"....IN MOVING PICTURES!"

"BUOYANCY EXPERTS, SHOULD BE ABLE TO DEMONSTRATE EXCEPTIONAL SKILL....UNDER WATER!"
WE ALSO KNOW:

that you can learn a lot about frog kick by watching our videos. Especially by tracing the path of Maureen's long black fins. Most other frog kick videos that we have seen feature some sort of tech diver in short jet fins using a jerky kick that seems to be going nowhere fast. That's because they are demonstrating what they do in a cave; in a restriction! We want you to see that you can substitute frog kick for flutter kick and not sacrifice progress in open water diving. If watching our videos is all that you need in order to learn to frog kick, you are welcome to do so with our

blessings.
| | |
| --- | --- |
| BOTH DIVERS ARE NEUTRAL....the diver on the right is hand holding the subject for the photographer. | This Photographer is using breath control in order to descend and close the distance to the turtle for a better shot. |
Our Mission Statement
....
more or less?
"Sometimes "LESS IS MORE" .... especially when you are a DIVER who values more SKILLS and less EQUIPMENT!"
Most of the people who visit our website don't bother to read.
We know this is not unique to our website... Anything longer than a tweet is too long....these days.
Those who do stay to read probably think we are "only" critical of the Status Quo....that we are "only negative!"


We are more than a little bit critical of both the quality of the buoyancy control skills that we continue to observe underwater and of the mediocre standards of the big training entities that we believe are responsible by omission. Sometimes negative input is necessary in order to achieve recognition of a problem.
THERE IS A PROBLEM!
Some readers believe that because we fail to identify with a big training agency, and do not display instructor numbers,that we are not instructors.
WE ARE INSTRUCTORS!
We believe that if we were to identify with training agency ABCD or WXYZ or even JKL, that we will loose credibility as Buoyancy Control Mentors because those agencies all have less than stellar reputations for buoyancy skills. We believe that because they offer certifications, they tend to deliver only certifications without any real substance and that the result is just another useless piece of plastic.
THEY'RE "ONLY" SELLING C-CARDS!
One of our Mexican colleagues continues to remind us that diving is an EGO Sport and that in his quarter century as both a guide and instructor ,on a popular island, he has seen little evidence that dive travelers seek to learn anything about diving, least of all buoyancy control. We point out that we ( BuoyancyQuest ) along with the infrastructure that he supplied over the years ( i.e. his boat and staff ) have had some truly spectacular results with divers on our group trips, some of whom improved their buoyancy skills and gas consumption, so much, in one week, that they almost doubled their dive times. He quickly points out that we did not promise them that would happen. He goes on to point out that "if" we really want to mentor buoyancy skills we should promote something else and introduce the buoyancy training after we have recruited "a captive group" on some other pretense.

HE MAY BE RIGHT!
We are stubborn! We don't favor "bait and switch" tactics! We think that Bait and Switch is the foundation of the Status Quo....i.e. Come to us and learn to dive when it is come to us and learn to be our customer is what is meant.
We supply video to support our buoyancy skills rather than using agency acronyms and instructor numbers. We have solid buoyancy skills. We worked on perfecting fundamentals before becoming tech divers or instructors. We promise to help you close the gap between your skills and ours. We promise you that we can identify your buoyancy skill level and we will tailor the training to the needs of your group. We promise you will look better underwater.
Without good buoyancy control skills your diving has no foundation and you quickly find yourself trying to create a smoke screen of credits such as how long you are certified, how many dives you have done, how "state of the art" or in some cases "how antique" your equipment is or even how many bodies you have recovered.
This is more widespread than many readers care to admit. And let's not forget how many women we train, as as open water divers, who tell us that "Hubby is a Navy Seal" and will teach them how to really dive after we certify them.

REALLY: who's kidding who?.....and no we didn't make that up and we heard it more than once!
Everybody, it seems, must find some sort of bragging rights with which to distinguish themselves. Anything but perfection of fundamental skills seems to be preferable. There are divers who have stacks of plastic cards who look just awful when viewed underwater and they seem to place little or no value on Buoyancy Control, which should be their foundation.
Most divers are searching for almost anything except skills.
WE SELL "ONLY" SKILLS!
Most dive professionals ,who have buoyancy skills equal to ours, do not share. Divers. who have buoyancy skills that are almost as good as ours or even better than ours keep that ability to themselves in order to maintain their own status. Most dive professionals who have our skill level want to teach some sort of tech diving where the payday is always four figures.
Most of the Buoyancy "Certification" Courses are being taught by instructors who have not perfected buoyancy skills to a high standard.
The majority of instructors who are conducting buoyancy certification courses for a big training agency can not demonstrate a level of skill that is even close to par with ours.
Trying to sell Buoyancy Skills without offering certifications or without disguising it as some "tech diver carrot on a stick" is a risky business if you cant "walk the walk."
"THEY CAN TALK THAT TALK"

.

.....but "WE CAN WALK THAT WALK!"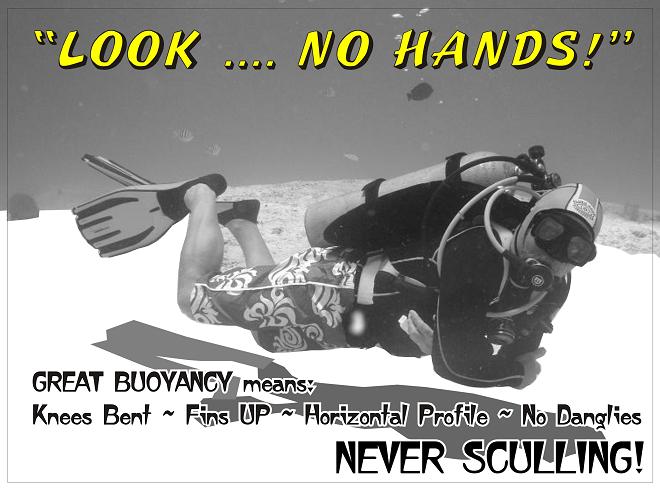 YOU WON'T

wear doubles.

YOU WON'T

get a C-Card.

YOU WILL

improve your buoyancy.

YOU WILL

learn to frog kick.
WE WON'T DRESS IN CAVE GEAR TO SHOW YOU HOW....AND YOU WON'T NEED TO DRESS THAT WAY EITHER

AS MOST BUOYANCY CONTROL SKILLS CLINICS
| | |
| --- | --- |
| copyright BuoyancyQuest, LLC 2010 all rights reserved | |